August 30, 2021
Visual vs. Copy: Understanding What Your Audience Wants

by Paola Limin
Every social media campaign needs quality content that has the perfect blend of both visual and copy elements. With the main goal of generating profitable consumer action, have you ever wondered which one elevates your content quality more?
In this Visual vs. Copy discourse, let's take a closer look and explore which marketing component has more impact in understanding what your audience wants.
---
Visual vs. Copy
It's not a secret that visuals and copy are the most common parts of social media content. Throughout the years, weighing which factor holds greater value remains an intense debate within the industry. To better understand this argument, we listed all the perks each element can provide when creating social media content.
Why Visual Elements Are Essential In Content Creation
Delivers your message faster
Did you know that an average human brain perceives visual elements 60,000 times faster than text? In fact, our mind is specifically engineered to process imagery in a high-speed manner.
And because the sense of sight dominates our normal comprehension, it feels more natural for your audience to react faster to visual materials. With these undisputed scientific findings, it's no surprise why 49% of marketers primarily use visual elements as part of their social media content strategies.
Considering the shortened attention span brought by the fast-changing digital era, integrating a magnetic visual component in your content eliminates these barriers for efficient and swift communication flow.
Retains brand recognition
According to the Cognitive Theory of Multimedia Learning written by Richard Mayer, people are more hard-wired with pictures and texts than information presented with words alone.
Images appeal better to modern-day audiences amid high-data traffic because people tend to remember 80% of information through visual communication. That's around 36,000 visual details per hour!
Through the clever and consistent use of visual assets, marketers can retain brand recognition that sets them apart from other competitors. With visual aesthetics adding value to your brand's image, your social media posts will appear more memorable than others.
Evokes emotional influence
When merging visual elements with your social media content, you'll always have to consider its level of relatability. More often than not, a single image could evoke emotional influence in a consumer's buying mechanism. As we all know, visual-rich content can provide an "emotional pull" to spark interest in an instant.
And because humans are such visual learners, you can use the likeability associated with your brand to become an industry leader who visually provides relevant and comprehensive solutions to your potential customers.
Why Great Copy Leads To Better Engagement
Gives clear and precise content direction
Conciseness plays a crucial role in a social media post, as texts have limited space to convey a message. However, even visually engaging content can easily miss conversion opportunities without a well-crafted copy.
Unlike visual assets, copies generate a clear and precise way of conveying a message. It has the ability to lead customers into long-term engagement and navigate them towards availing your services or buying your products.
With the right Call-To-Action copies, the relevance of your content can be easily directed and customized to a specific target audience. On top of that, the information presented narratively is a tried and tested formula that will always have greater influence and lead people to engage more.
Provides unique value amid high visual competition
Being inclusive with your audience is among the many leverages of copywriting when integrated with social media marketing. Conveying first-person narratives through text in the sea of visual-led content gives you a chance to connect with your market better and adds a unique touch to your brand.
The more human elements you integrate into your content copy, the more engagement it'll encourage. As the old saying goes, sincerity will serve you well in the long run.
Allows you to expound audience pain points
Focusing on what you can do for your customers rather than what to provide is a great way to trigger audience engagement. While you can apply this principle to visual content, expounding pain points further can only be done through clever copywriting.
Your content copy is what makes the audience keep reading. Without it, the value of your visual elements will only present themselves as small nuggets of information and never truly reach their full marketing usability.
Content copies will serve as the paddle supporting the waves of engagement drawn by your visual assets.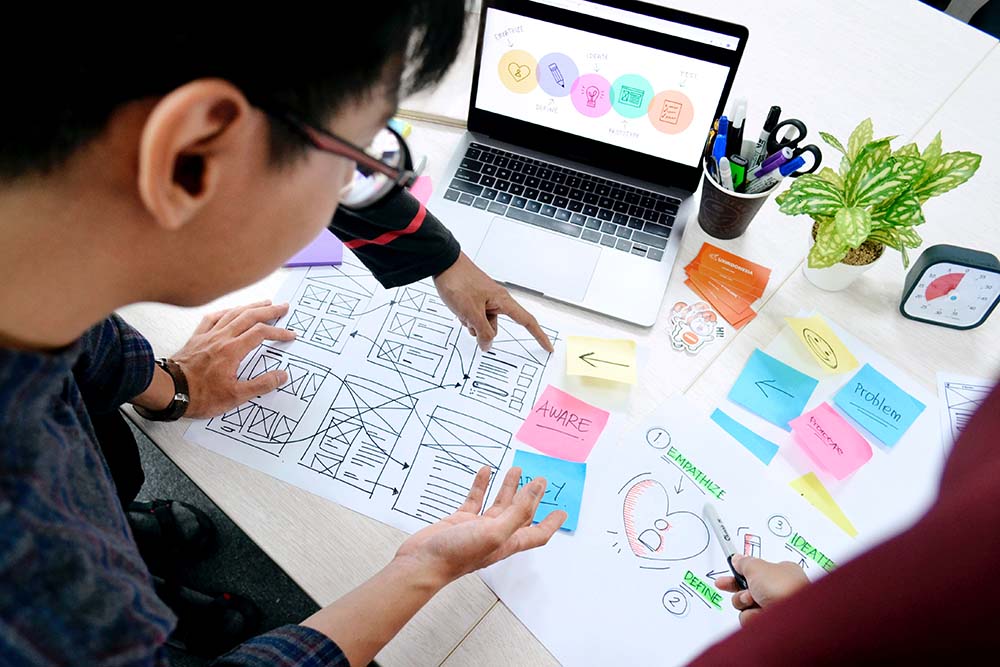 Photo by UX Indonesia on Unsplash
Visual or Copy: What makes your social media content effective?
You see, there's no denying that both elements need to go hand-in-hand to make any digital campaign work. Without the emotional pull owed to visual elements or the unique value from copywriting, the delivery of your brand's message will end up lacking at some point.
While Visual vs. Copy is a valid argument to discuss, these two elements aren't the only metrics you should consider when crafting social media content. Sometimes, visuals may not be as impressive as others, but the copy will carry its purpose and vice versa.
And even with the presence of both in the formula, achieving good results with high-quality posts are far more complex than most people think. With that scenario often true in the age of social media, what does it take to understand what your audience wants? What makes your content effective?
The answer is social listening. Coming up with ideas on what to post on your social channels is never easy, but if you want it to work, you have to gain better audience insight. In the middle of the intense competition, knowing what triggers your readers will give you a solid headstart from other brands.
Think about the perception of your target market. Flip the coin. From there, identify what problems your brand can relate to. After all, the services/products you provide are the solutions you want them to look for.
Significance of Visual Assets to Social Media Marketing
August 30, 2021
by Paola Limin
The Benefits of Sharing User-Generated Content
August 30, 2021

by Kathleen Lacson
Outsourcing Digital Marketing Services Amid A Crisis
August 30, 2021
by Paola Limin
Start your digital marketing journey now.