March 25, 2022
The Print Industry in the Digital Age

by Kathleen Lacson
Print stands out as something of a pioneer when it comes to the production of materials that have the intent of relaying a widespread message. Yet, with all things digital becoming the go-to worldwide, it may come as a small surprise as to just how exactly this traditional industry managed to survive up to these current times.
---
Adapting to Survive the Times
Through the years, the print industry has had its fair share of challenges, even before the pandemic, with the rise of technology from radios, to television, computers, and now social media. These digitally advanced mediums became a much faster and essentially more innovative way of catching people's attention and sending out all sorts of information. Their rapid growth all across the world has definitely made many believe that they were going to finally make print obsolete.
But that is obviously not the case. The resilience and ability of print to adapt in the constantly evolving modern society has allowed it to remain as one of the forefront mediums for producing all kinds of materials especially for marketing and here's how.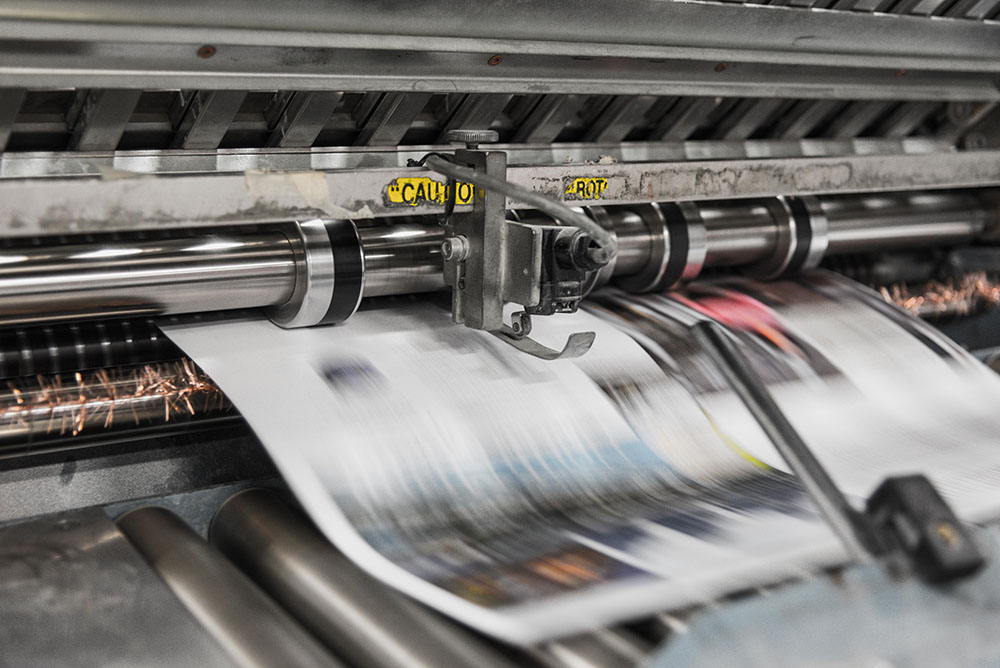 Photo by Bank Phrom
For starters, instead of backing away from modern technology, many, if not all, print companies have embraced it within their process as a means to bring convenience to their employees and overall production process. The continuous advancement of technology has given birth to machines capable of producing high-quality deliverables at a much faster rate than ever before, thus reliably keeping up with demands. Not to mention, there are now also an increasing number of eco-friendly printing ways to help reduce one's carbon footprint — very in fashion due to today's environmental challenges. All these intertwined with traditional production ways have definitely allowed the printing industry to survive and thrive even in the digital age.
Now, how technology has helped the print industry survive with the pandemic is by providing safer and convenient user controls when it comes to these printing machines. With all the lockdowns that have happened in the last few years, print has definitely taken a blow especially as it still requires physical efforts to produce results. That said, being able to control certain aspects of the process from just one's computer while still being on-location has given great reprieve to this issue especially with regards to social distancing.
The incorporation of modern technology has also allowed print businesses to stay connected with their clients and potential clients especially through the likes of official websites and social media. Joy Gendusa of Printing Impressions emphasizes the importance of sustaining brand loyalty and relevance as a means of printing companies surviving this pandemic era. Simply put, print is very much still needed, maybe more than ever before, during these challenging times.
Target marketing is another crucial factor to the survival of the print industry in the digital age as there is no need to mass produce marketing ads unlike before anymore thanks to the internet. Now, gathering data to determine which businesses would benefit from receiving physical materials for marketing or other purposes is the way print companies go. In fact, according to Riley McNulty of Keypoint Intelligence, "a majority (60%) are seeing an increase in demand for COVID-related signage." This can be backed up by Andrew Snook from Print Action as he interviewed some key players in the Canadian print industry who have mentioned how "[they've] been doing a lot of COVID prevention signage and printing" to help the frontliners. And this is exactly the core of the print industry's survival through the years of modernity — its flexibility to easily adapt to what society provides including its current needs all while staying true to the ultimate result: good ol' fashioned printed material.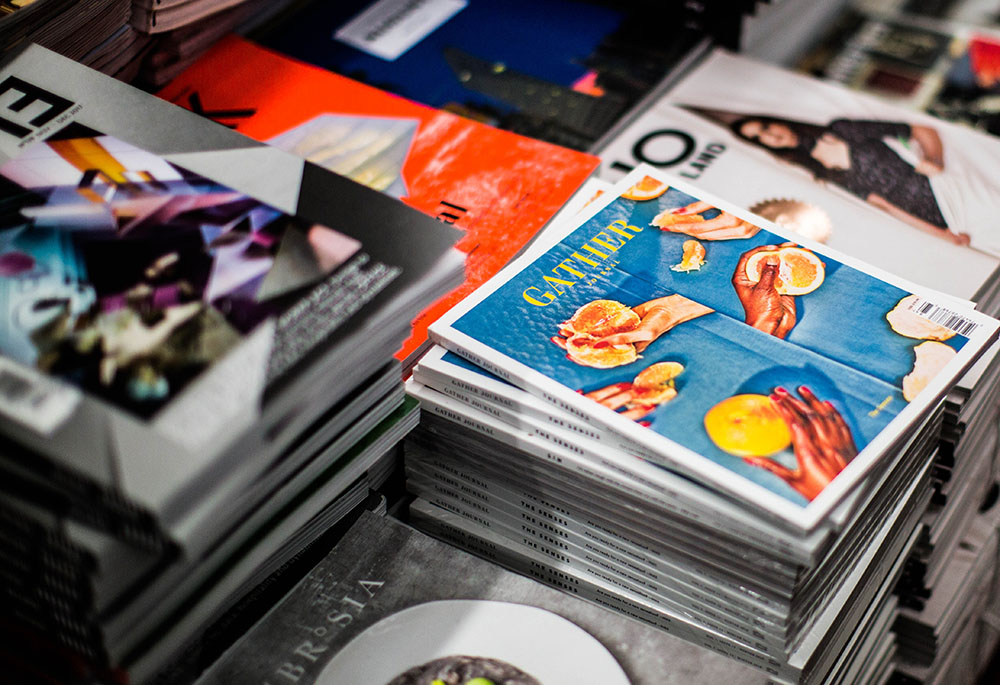 Photo by Charisse Kenion
Print's Still Got Edge
Tangibility is also a big factor as to why the print industry has survived for so long. In fact, B&B Press states that the ability to recall the contents of something that is actually printed is 70% higher as compared to digital contents. Also, it's 21% less of an effort to comprehend printed materials than digital ones.
You see, we are more likely to let our minds or attention get distracted when we view digital contents as we can be tempted to click on other areas within the page even before fully comprehending what was initially being read. We also tend to relate internet reading with the term "web surfing" which basically means speed browsing through the key words or phrases which our mind deems the most essential within the entire digital content. Although this can be handy in certain cases, this also increases the chance of not fully digesting the digital piece and even missing out on some important aspects which can lead to miscommunicated ideas.
Meanwhile, print materials allow us to generate more focus on its contents as we cannot "click" our way out of reading or checking out something else that may have caught our attention. The physical boundaries created by printed material allows us to clearly direct our attention to just its contents. As Anne Mangen from the University of Stavanger says, "[Print reading] is kind of like meditation — focusing our attention on something still." And, sometimes, nothing hits better than relaxing on an afternoon and putting down the phone to do some traditional reading. If there's one thing, it's easier to dive into the world of physically printed contents as compared to getting consumed by the multitude of varying contents that digital can bombard us with all at once.
Print also tends to last for much longer than their digital counterparts. Even if digital materials will look the same for the rest of their existence online, no wear-and-tear, physical materials won't run the risk of being deleted, stopped by ad blockers, or lost in a myriad of other daily contents even before they get to do what they're supposed to do which is to impact consumers' decisions. The best way prints make their presence known is by simply being physically present. If you think about it, everyone has at least one brochure, pamphlet, or piece of physical marketing material laying around somewhere that they tend to pick up time and time again — with the easiest specific example being a delivery menu brochure.
On a broader scale, some of the other common way prints make their presence felt in our everyday lives is through the likes of sales promo posters, tarpaulins, or banners which can be found all over the city especially in malls. You might not even think so much of these printed materials at first glance but they're like seeds of information being planted into your mind and waiting to be watered with curiosity to further find out what they hold in store (e.g.: a printed sales advertisement for a clothing store can lead to you purchase a beautiful, new top for an amazing deal). Another way prints are present in our everyday lives are through business cards, printed instructions, or even packaging labels that include a brand's social media platforms for you to follow them at which makes for a great way of bringing print and digital into one marketing material.
Furthermore, print tends to have less competition in its presence, especially now, than that of digital materials allowing it to really give its full force of marketing prowess to those who end up receiving it.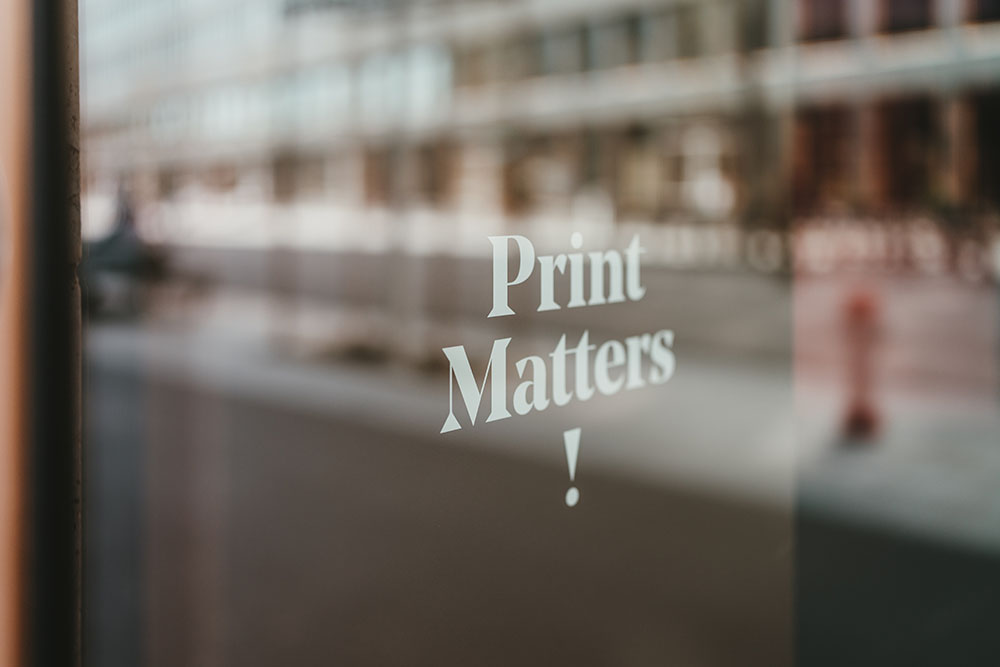 Photo by Claudio Schwarz
In Conclusion
At the end of the day, the most practical marketing advice any sensical marketer would give is to find that balance between print and digital. Why make it an either-or choice when you have the powerful option to take the best parts of these two worlds and mold it into the ultimate marketing strategy for your business instead?
Print still lives with its impressive ability to adapt as well as stay within people's memories thanks to its tangible form. But, digital has also proven that it's here to stay thanks to its quicker ability to shorten the global boundaries between people as well as being able to penetrate the one thing almost everybody around the world has access to: a smartphone. Together, these two mediums can prove to be a force to be reckoned with especially when it comes to your brand's marketing.
Start your digital marketing journey now.